Durham Cathedral knocker damaged by thieves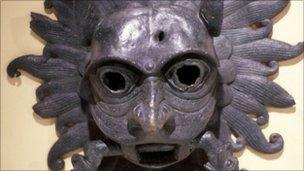 A 30-year-old bronze door knocker has been damaged by thieves during an attempted raid at Durham Cathedral.
Police said the raiders tried to prise the knocker off the sanctuary door after climbing over the cathedral gates after it had been locked up on Tuesday.
They failed to remove the knocker which is a replica of the 12th Century original in the shape of a lion-like creature.
Criminals used to be able to knock at the Cathedral and ask for sanctuary.
Pc Chris Milburn, of Durham Police, said: "We're treating this as an attempted theft of a valuable object which has adorned the door of this World Heritage Site for over 30 years.
"We are appealing for anyone who has information about this incident to contact us as soon as possible."
Related Internet Links
The BBC is not responsible for the content of external sites.