Campaigners hope to save County Durham college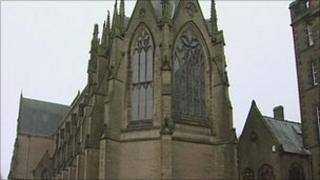 More than 250 people have signed an online petition opposing the closure of a Roman Catholic college.
In October, trustees of Ushaw College in County Durham announced it would be closing.
The college is run as a charity and is home to St Cuthbert's Seminary, which trains young men to become priests, as well as providing conference and event facilities.
Trustees said maintenance and running costs had increased.
The college is due to shut in June with its students transferring to another seminary.
At the time of the closure announcement Monsignor John Marsland, president of the college, said it had tried to find a development partner and still hoped someone would come forward.
Nearly 280 people have signed the online petition.
They are calling for a study to be carried out of the options in the hope that it could still serve the Catholic population in the north of England and so the closure can be debated publicly.
Ushaw College can trace its roots back to Douai College, which was founded in 1568 in the Spanish Netherlands, now northern France, to provide priests when traditional Catholicism suffered persecution under Queen Elizabeth I.
Students and staff later relocated to County Durham and eventually settled at Ushaw in 1808.