No new charges for former County Durham GP over deaths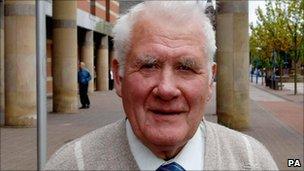 A GP who admitted hastening the deaths of people in his care will not face a new prosecution.
Former County Durham doctor Howard Martin, 76, was cleared six years ago of the murders of three patients.
The Crown Prosecution Service (CPS) was investigating over comments he made in an interview with a national newspaper and families demanded action.
It said it had considered the material but said there was not sufficient new evidence for action.
Dr Martin was cleared of the murders of Frank Moss, 59, Stanley Weldon and Harry Gittins, both 74, following a trial at Teesside Crown Court in 2005.
He was stuck off by the General Medical Council in June last year for giving excessive morphine doses to 18 dying patients.
In an interview with The Daily Telegraph he reportedly said: "I twice helped people die, not because they wanted to die but because they had such dreadful suffering."
The case was reopened by Durham Police after patients' families complained.
Durham's Chief Crown Prosecutor Chris Enzor said: "After careful consideration of this material, including discussion with leading counsel who prosecuted in the 2005 murder trial, I have decided that in these circumstances there is not sufficient new evidence, as the law requires, to warrant the conduct of an investigation which must be authorised by the DPP (Director of Public Prosecutions)."
He said he appreciated it was a distressing time for families involved and had offered to meet them to explain the decision.
He said: "I have also looked to see whether there is any new evidence which might support a prosecution relating to certain other patients.
"These cases were looked at previously and it was decided at the time there was insufficient evidence for a realistic prospect of conviction.
"In all these cases, I have concluded that there is no new evidence to allow us to start criminal proceedings."
Related Internet Links
The BBC is not responsible for the content of external sites.