Sunderland University's new £8.5m science complex opens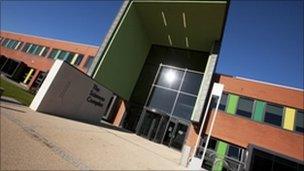 Researchers are hoping that a new £8.5m science unit on Wearside will help develop new drugs and treatments for heart and stroke patients.
Sunderland University also hopes the complex will attract students from all over the North East who will want to stay in the region.
Scientists at the new facility will also try to develop new treatments for Parkinson's Disease.
The unit will be opened on Wednesday by scientist Lord Robert Winston.
He said: "The University of Sunderland's use of research and knowledge in science makes it stand out for me.
"Ensuring science is accessible and that research is relevant to society is vital. Sunderland, as it regularly shows, does this exceptionally well."
The new centre boasts state-of-the-art research laboratories and exhibition space to promote science to industry and health professionals.
Related Internet Links
The BBC is not responsible for the content of external sites.