Sunderland City Council buys former Vaux brewery site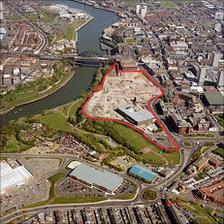 A 10-year wrangle over the future of a former brewery site in the centre of Sunderland has been settled.
Supermarket giant Tesco bought the 26-acre Vaux site in 2001, but several development plans were blocked.
After years of legal rows, Tesco has now agreed to sell to Sunderland City Council for an undisclosed sum.
But the council has warned longstanding plans for a business and leisure complex on the site may be some way off due to ongoing budget restrictions.
Council leader Paul Watson said: "Now that the city owns the Vaux site we can look forward to its redevelopment as a business hub.
"While construction will not happen overnight and could be some time away, this is a significant step forward. The first thing for us is to get on-site and begin its remediation."
This work will initially include clearing the site of debris and old building foundations and looking at its potential for possible temporary uses before major development work starts.
An agreement in principle was reached with Tesco last year that the site could be sold to the public sector. The final sale price is not being made public for commercial reasons.
Money for the purchase came from the city council's development partners the Homes and Communities Agency and regeneration agency One North East.
Doug Wilson, corporate affairs manager for Tesco, said: "We have continued to work closely with Sunderland City Council and other public sector bodies to resolve the future of the site.
"Tesco remains committed to making further major investment into the city and this announcement means we can now move forward with our exciting plans for a new store at the Sunderland Retail Park."
Related Internet Links
The BBC is not responsible for the content of external sites.