Inspectors note improvements at Frankland Prison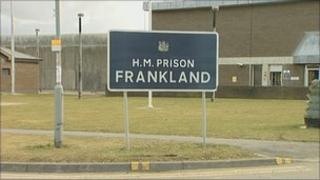 There has been significant improvement at a County Durham prison where concerns about violence were raised in 2008, inspectors have found.
HM Inspectorate of Prisons reported serious incidents of prisoner-on-prisoner violence at Frankland.
But following an unannounced inspection in November, it said progress had been made and praised staff and managers.
Frankland, in Durham, holds more than 800 of the most serious offenders in the prison system.
In 2008, among the concerns highlighted were that there was "no evidence" of a "robust violence reduction strategy" to deal with bullying, and that black and minority ethnic inmates felt "especially unsafe".
But the latest report found safety arrangements had improved, security procedures were good and a unit helped make sure challenging prisoners were not segregated indefinitely.
It said staff-prisoner relationships were better and there was less obvious evidence of tension between Muslim and other prisoners.
'Safe environment'
The inspection found prisoners had a reasonable amount of time out of their cells, there were sufficient activity places with good educational and vocational provision.
There were still some concerns, including that more needed to be done to reduce violence and challenge bullying behaviour and about the abuse of some prescribed medication.
Inspectors also said mental health provision was over-stretched and demand for offending behaviour programmes outstripped supply.
Chief inspector of prisons Nick Hardwick said of Frankland: "It now houses more serious offenders than any other prison in the country, but does so in an environment which is essentially safe, decent and purposeful.
"It also places an appropriate focus on reducing the multiple risks and needs that these prisoners pose.
"There are, inevitably, a number of areas where we consider further progress is required, but staff and managers are to be commended on what has so far been achieved."