Expansion plans considered for Murton retail park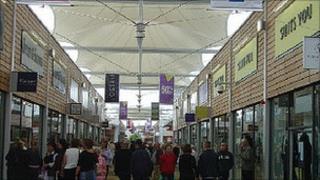 Council bosses are to consider plans to expand a County Durham retail park which could create hundreds of jobs.
The planned second phase of the Dalton Park complex in Murton, near Peterlee, would include a superstore, restaurants, cinema and petrol station.
Owners ING Retail opened the first phase of the site, built on the former Murton Colliery, in 2003.
Durham county councillors are to consider the plans at a meeting due to be held on 5 April.
The existing 55-acre site is home to about 70 shops and opened in 2003.
David Alker, development director of ING Real Estate Development, said: "We are pleased to bring forward the next phase planned for our development at Dalton Park.
"The existing centre has brought about major economic benefits and contributed hugely to the regeneration of the area.
"We are proud of this achievement and believe that these plans will not only strengthen the attractiveness of this important destination but it will also provide further momentum to achieving the regeneration objectives."