Boy, 17, held after stolen bus crashes in Peterlee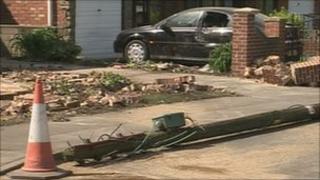 A 17-year-old has been arrested by police after a bus crashed into a telegraph pole, three parked cars and a garden wall in County Durham.
Durham Police said they were called on Tuesday night to a report of a bus being stolen from Peterlee bus station by two youths.
The bus was found crashed in Station Road, Shotton, and had just missed the main wall of a house.
A second youth is being sought in connection with the incident.
No one was hurt but the vehicles involved were extensively damaged.
Police are appealing for witnesses especially to those who may have been near Peterlee bus station at about 2200 BST.