Go-ahead for £14m Durham Police HQ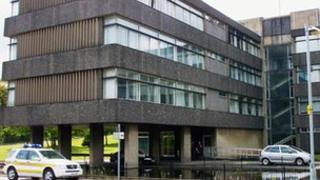 Planning permission has been granted for a new headquarters for Durham Police.
The £14m building at Aykley Heads would provide an "effective service" to the people of County Durham and Darlington, the police authority has said.
Most of the funding is expected to come from the sale of the current headquarters land, which it is hoped will be developed for housing.
It is hoped the new HQ will be operational by the spring of 2014.
Peter Thompson, Durham Police Authority chairman, said: "The new building will be more efficient to run and is expected to save £750,000 per year and will be energy efficient, unlike the current headquarters building.
"In relation to house-building on the existing headquarters site, this will also give a welcome boost to the construction industry and local economy."