Cash-strapped Durham County Council defends £2.8m cricket club grant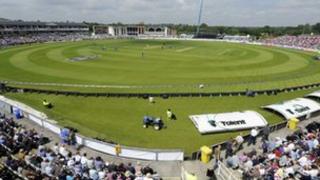 A county council has defended agreeing to invest £2.8m in Durham County Cricket Club (DCCC) during budget cuts.
The club said the grant will secure the future of international fixtures at Chester-le-Street.
Durham County Council has agreed the deal in principle with the club, which will host an Ashes Test for the first time this summer.
A spokesman said investing in DCCC's future would generate millions for the local economy.
The Labour-controlled authority recently confirmed it must save £200m by 2018, with the loss of 1,600 jobs.
DCCC said an independent impact report revealed the club would contribute almost £20m to the local economy this year, and a further £40m over the next three years.
'Global scale'
Simon Henig, leader of the council, said: "This summer the club will make history by hosting the Australians in what will be the first Ashes Test match to be played in the North East.
"Next year there are already additional high-profile fixtures which will also bring in many millions to the economy and offer us a unique opportunity to showcase this region on a global scale."
Club chairman Clive Leach said it was hoped the money would make international play a "permanent" fixture.
He said: "For a number of years, the club has been investing and investing, building and building.
"However, we need to demonstrate local stakeholder support to ensure we can build upon the work we have undertaken already, make international cricket a permanent fixture and leverage that status to bring investment into the club."