Durham Light Infantry memorial unveiled in Market Place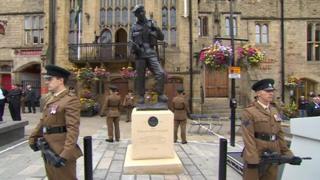 A memorial honouring the Durham Light Infantry has been unveiled in the regiment's home city.
The £75,000 bronze sculpture of a single soldier mirrors one at the National Arboretum in Staffordshire.
Former regiment members and their families gathered in the Market Place to take part in a dedication service for the statue paid for by donations.
James Ramsbotham, chairman of the regiment's charities, said it was "crucial" to have a memorial in Durham.
The statue is based on a photograph of the then 18-year-old Colour Sgt Brandon Mulvey, from Chester-le-Street.
Col Ramsbotham, said: "We're putting the statue up to remember every single person who served in the Durham Light Infantry, and also every family in the county.
"Almost every single family had some member who served with the regiment and it wasn't just the men who served, it was their families who supported them too.
"This, in many ways, is a tribute to everyone in County Durham."
The sculpture by Edinburgh artist Alan Herriot, symbolises the poignant moment after the infantry buglers sounded the ceasefire in Korea in 1953.
This conflict was the regiment's last battle honours.