Seventeen people evacuated from Wiltshire hotel fire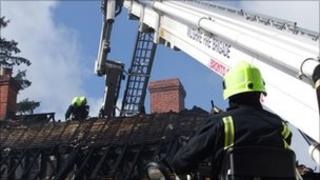 Seventeen people were led to safety from a hotel near Tisbury, Wiltshire, when fire broke out in the early hours.
More than 50 firefighters have been tackling the fire at the Beckford Arms in Fonthill Gifford since about 0200 BST.
Wiltshire Fire Service said the building had been extensively damaged and the cause was still being investigated.
A person living in the property next door was also led to safety.
The hotel's owner Daniel Brod said: "The main thing is nobody was hurt."
Guests rehoused
Mr Brod said the first he knew about the fire was when he was woken by the police at his home nearby.
He said: "There were several fire engines busy tackling the flames which were really shooting up to the sky.
"Obviously our first concern was to deal with the guests. We had a full house so we've rehoused them in local B&Bs the best we could, and also our head chef who was living in the loft upstairs.
"All we know is that it started near the bin area and that the fire brigade are investigating."
Deputy Chief Fire Officer Simon Ralph Jones, of wilshire Fire and Rescue Service, said: "There was an extensive fire in the ground floor area which had gone into the first floor and into the roof as well and affected an adjoining property where there was one resident.
"We've got it under control now, but we've lost part of the building where the fire was very fierce when we arrived.
"We've got a lot of debris and the fire investigation team are looking through that."