Plans to combine two GP surgeries submitted to council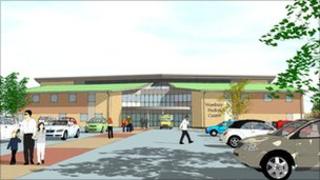 Plans for a new primary care centre in Westbury have been submitted to Wiltshire Council.
The development combines the two existing doctors' surgeries of Eastleigh and White Horse under one roof at Leigh Park.
There would also be a range of services that people in the area currently need to travel to other towns to access.
Services include outpatient X-ray facilities, a dental surgery and a mobile diagnostics centre.
Bill Fanning, chairman of the Westbury Patients Forum, said: "We recognise from previous meetings that people are very supportive of the development but had a few concerns about transport, and we've been working hard with Wiltshire Council and voluntary services to resolve these details."
Dr Debbie Beale, a GP at Eastleigh Surgery, said: "The application submission marks the result of lots of hard work and commitment from everyone who is involved in our project.
"We look forward to receiving comments from Westbury people, who can find out more by visiting our surgery in Station Road or by linking to the Wiltshire Council website to have a look."
The application is expected to be considered by the council's western area planning committee in September or October.
If the plans get the go-ahead, the centre could open in 2012.