Tidworth-based soldiers given Operation Herrick medals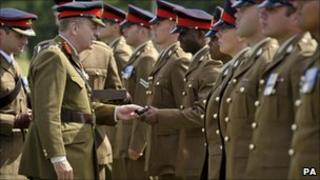 More than 500 soldiers based in Tidworth, Wiltshire, have been honoured for their service in Afghanistan.
The 1st Regiment Royal Horse Artillery personnel were presented with Operation Herrick medals at Tedworth House on Saturday.
Their duties included protecting soldiers with air and artillery support in Helmand Province, and safeguarding convoys.
The regiment also helped set up and run the Helmand Police Training Centre.
It lost none of its personnel during the deployment from September 2009 to April 2010.
Before the soldiers paraded with their medals for about 1,000 guests, the regiment held a private ceremony in recognition of the sacrifice made by fallen colleagues on earlier deployments.