Council backs wind turbines for Swindon's Honda plant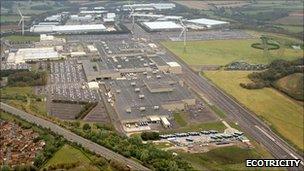 Plans for three 120m (394ft) high wind turbines at Honda's Swindon plant have been given the backing of Stratton St Margaret Parish Council.
Neighbouring South Marston Parish Council has already spoken out against the car manufacturer's proposals.
Stratton council clerk Paul Russell said it wanted to support the big local employer.
But South Marston council has expressed concerns about noise and a possible strobe light effect.
Honda is working on the project to use wind to power its plant with green energy company Ecotricity.
Mr Russell said: "The parish council is very keen to support manufacturing in the locality and Honda is a particularly useful and good employer.
"Green energy will create much more sustainability and hopefully, with the level of investment Honda are providing into the local community, that will underpin future job security for Honda workers."
But David Manners, who lives in South Marston and would have a view of the turbines, said he could not believe the neighbouring council was supporting the plans.
He said: "It's going to affect so many people in Stratton. All the people living down the side of the A419 will be looking directly at them. There's also the noise issue.
"The people of South Marston are very concerned, we've dropped leaflets through people's doors there."
Colin McEwen, chairman of the parish council, previously said there were concerns about a strobe effect when the sun sets.
The original plans were for four turbines.
Related Internet Links
The BBC is not responsible for the content of external sites.