British Embassy criticised after Swindon man's death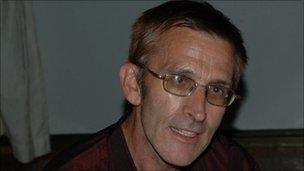 The family of a Swindon man who died in Thailand have criticised the assistance they got from the British Embassy.
Matthew Grant, 54, had been working as an English teacher when he was hit by a bus about five weeks ago.
His family said they only found out about the death on Facebook. His mother Jean Allaway said she borrowed almost £3,000 to bring her son's body back.
A spokesman from the British Embassy said the family had been given full consular assistance.
The family received the news in a message from a Facebook friend of Mr Grant's.
Shaun Allaway, Mr Grant's brother, said: "I think the embassy was absolutely pathetic. They sent a bit of paperwork through an e-mail and that was it. They haven't really helped at all.
"They gave me a number for probate, we phoned and they said sorry, we don't do that.
"We didn't know we had to get a solicitor to start all this off. It was about two weeks after Matthew died that we found out."
The family estimate the total cost, including about £3,000 for the funeral and paying Thai solicitors, will add up to about £10,000.
Mr Allaway said: "People who are going abroad, think of your loved ones. Get a solicitor, make a will. Carry some ID and a bit of paper with your name and address.
"If it wasn't for Facebook we wouldn't have found out.
"They're trying to rush the inquest through so we can do the funeral as soon as possible," he added.
His mother Ms Allaway said: "I've got to remember. I keep saying I have five sons and I haven't any more.
"Hopefully Matthew's got some life insurance but we're not sure."
Related Internet Links
The BBC is not responsible for the content of external sites.