Injured dog saved from drowning in Wiltshire river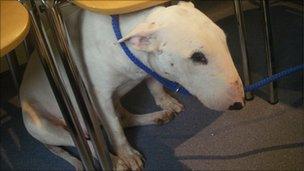 A dog was saved from drowning after it was found injured and in difficulty in the Kennet and Avon canal in Wiltshire.
A man walking by the towpath near Hilperton reported hearing a splash and yelping and turned to see the English bull terrier struggling in the water.
Police dog experts, who were called to the scene just after 2100 BST on 11 August, said the animal had suffered horrific injuries.
Another man who was seen nearby at the time is being sought by police.
He is said to be in his 30s, about 5ft 8ins tall, of mixed race with a chubby face, goatee and sideburns. He wore a tight black T-shirt and dark-blue jeans.
Sgt Steve Jones said: "The dog had been traumatised by her experience and had numerous fresh wounds on the front of her body, head and neck, none of which were consistent with struggling to get out of the water.
"It was clear from the outset that we were dealing with an appalling example of animal cruelty."
On examination by a vet, the dog was found to have recently given birth. A further two puppies were delivered by Caesarian section, but died.
The witness who called police, who did not want to be named, said: "She was terrified, clinging to a rock until I managed to pull her to the edge.
"I took off my T-shirt to try and dry her off and looked after her until the police arrived."
Due to the nature of the injuries, police believe she might have been used in dog-fighting as a "bait dog".
Police and the RSPCA are investigating.
Related Internet Links
The BBC is not responsible for the content of external sites.