E-fit released after sex assault on Swindon bus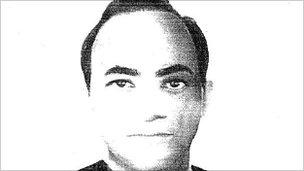 An e-fit has been released of a man police are looking for after a 14-year-old girl alleged she had been sexually assaulted on a bus in Swindon.
A police spokesman said the victim was travelling to the town centre on 23 June when the man got on near the Bulldog Pub and sat next to her.
He leaned across her to hold on to a rail, pushing his elbow into her breast. He later molested her again.
The police spokesman said the victim got on the bus at about 1503 BST.
He said the man had remained with his elbow on the girl's breast until the bus reached the town centre. The bus stopped and the girl tried to get off, but the man pushed her back into her seat.
He then sexually assaulted her again, the spokesman said. He got off and walked under the subway to the parade.
The attacker is described as dark skinned, possibly Asian, over 5ft 6in, and in his late 30s or early 40s.
He is of medium build with receding short black hair in a "comb over style" and has an "unusually shaped" nose, the spokesman added.
He was also wearing a white, orange and blue striped t-shirt, black jeans, and "untidy" black shoes.
Passengers on the number two bus who saw the man, or anyone who recognises him, are asked to contact the police.
Related Internet Links
The BBC is not responsible for the content of external sites.