Help needed to clear Himalyan balsam weed in Wiltshire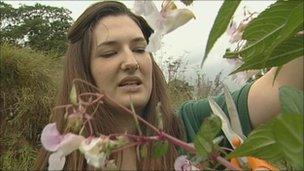 Volunteers are being sought to help clear an invasive weed from Wiltshire's river banks.
Wiltshire Wildlife Trust is setting up a task force to clear the Himalayan balsam plant from the Salisbury Avon, By Brook and River Ray.
The trust said the weed needed to be removed before it sets seed and spreads further, damaging wildlife habitats.
Emma Harrington, from the trust, said: "The balsam grows rapidly, smothering the riverbanks."
She said it "crowded out" native wetland plants, which are important food sources for wildlife.
The plant was introduced to Britain, from India, by the Victorians.
It produces purplish-pink flowers from June to August and has the ability to hurl its seeds with great force by means of a coiled spring mechanism within the seed-pod.
The slightest knock can cause the pods to shoot their seeds up to 15ft away from the plant.
Ms Harrington said: "The problem with it is that it creates quite vast stands which compete with our native flora.
"In the winter it dies back and leaves bare soil, so then you've got a risk of soil erosion and it can contribute to flash flooding.
"We are getting some seed pods which are threatening to explode so we need to remove them before we remove the plant from the bank."
Related Internet Links
The BBC is not responsible for the content of external sites.