Appeal for help removing Himalayan balsam in Wiltshire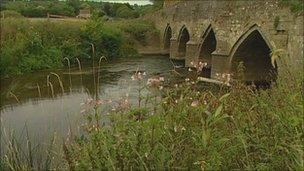 Wiltshire Wildlife Trust is appealing for volunteers to help remove an invasive plant from the banks of the River Avon.
Himalayan balsam was introduced to Britain by the Victorians, but escaped from gardens and has thrived in waterways throughout the country.
The trust said the plant grows thickly and out-competes native vegetation.
It leaves bare soil in winter, creating the risk of soil erosion and flash flooding, the trust added.
However, some beekeepers have said they believe the plant is necessary to protect the insect's population.
Related Internet Links
The BBC is not responsible for the content of external sites.