'Self-grooming' honey bee found in Swindon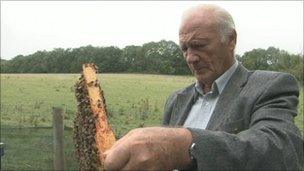 A Swindon beekeeper believes he has found a new variety of honey bee which can rid themselves of a parasitic mite.
The varroa mite is thought to have entered the UK in 1992 by "piggy-backing" on a bee and now kills tens of thousands of the insects every year.
Ron Hoskins said he had discovered bees which groomed each other to remove the mites, saving the hives.
He said he would give other keepers hives in the hope the bees will spread.
Mr Hoskins said: "We lost probably half of our colonies of bees and we put that down to the varroa mite.
"We started to study the survivors and what we found was that they were actually grooming the mite from themselves.
"The mite breeds in the cell on a baby bee, the wings never develop properly and so it will not be able to fly and fetch the food the colony needs to support it.
"What we have done is to develop a bee that hopefully will go feral. It can go wild, it can survive because it's learnt to groom and look after itself.
"Therefore the feral population of honey bees now, which is probably near zero, will be able to substantially increase over the next few years."
Related Internet Links
The BBC is not responsible for the content of external sites.