Spread of parvovirus in Swindon dogs cancels event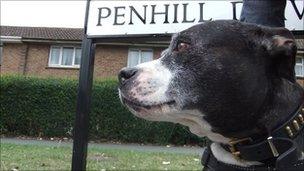 A vets' charity open day in Swindon has been cancelled in a bid to prevent a further increase in cases of parvovirus among dogs in the area.
Drove Veterinary Hospital has seen more than a dozen confirmed cases in recent weeks and said dogs mixing at the event could cause it to spread further.
Dogs have been coming down with the potentially life-threatening illness in both Penhill and Pinehurst.
The British Veterinary Association said they considered it an epidemic.
Emma Coles, a vet at Drove, said the open day had been due to happen on 5 September.
"We were going to get a lot of dogs from all over Swindon mixing and although I would love to say every single dog that came was vaccinated, unfortunately that wouldn't be true," she said.
"We were concerned we didn't want to be a source of transfer of infection anywhere else."
She said the virus spread between dogs very easily.
"When they are out they pick up faeces on their paws and when this is ingested it can make them very poorly," she said.
"The dogs are sick many times, become very depressed, don't want to move around, cannot face their food and become very miserable.
"It does unfortunately seem to be dragging on. We had another confirmed case yesterday in a dog which had to be put to sleep."
Harvey Lock, president elect of the British Veterinary Association, said: "It is an epidemic in the context of the number of cases that you're seeing in the Swindon area.
"In any area where you've got a reasonable percentage of dogs which aren't vaccinated, this nasty virus can really take hold and spread rapidly."
Related Internet Links
The BBC is not responsible for the content of external sites.