Swindon council to dismantle Mechanics Institute roof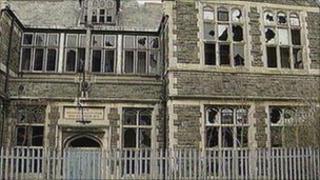 The roof of a historic building in Swindon is "so close to collapse" the council has decided to dismantle it.
Work to remove the roof over the Grade II listed Mechanics Institute starts on Monday and all roads around it will be closed for three weeks.
The council seized control of the privately owned building after a row over restoration. It was granted the legal right to carry out urgent works.
It said it will try to recover the cost from the owner, Forefront Estates.
The work to dismantle the roof will be carried out from above using cranes and platforms as the roof is not stable enough to allow workers underneath it.
'Uncontrolled collapse'
As it cannot be propped up from within the structure, the council said they have been advised by engineers to take the roof down before it falls in.
Councillor Gary Perkins, of Swindon Borough Council, said: "We have taken over the building in the nick of time.
"An uncontrolled collapse of the roof could well cause other damage to the structure.
"Once the roof is off we will then protect the building with scaffolding and sheeting to prevent further weather damage. It is vital that this work is carried out quickly."
The council was given a grant of £250,000 by English Heritage to carry out the urgent works.
The Mechanics Institute opened in 1854 as an educational centre for railway workers, but closed in 1986.
It has been owned since 2002 by businessman Matthew Singh who wants to develop the property.
The owners of listed buildings have a legal duty to ensure they do not deteriorate.
The council has organised a meeting on Wednesday for residents in the nearby Railway Village to explain what is happening.