Wiltshire policeman bailed over cell attack appeal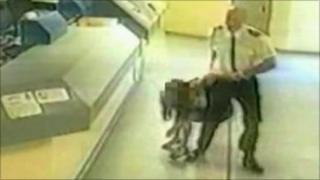 A police officer who was jailed for six months after he was caught on CCTV throwing a woman into a cell has been granted bail pending an appeal.
Sgt Mark Andrews was filmed dragging Pamela Somerville, 59, through Melksham police station in Wiltshire.
The 37-year-old was jailed last week after being found guilty of causing her actual bodily harm at a trial in July.
He is appealing against the conviction and has been granted unconditional bail at Oxford Crown Court.
An appeal hearing is listed to take place at the same court on 15 November for five days.
Custodial sentence
Ms Somerville was badly injured in the incident in July 2008 and needed stitches to a gash above her eye.
She was arrested after being found asleep in her car, and had been detained for failing to provide a sample for a breath test.
She denied any wrongdoing and the charges were later dropped due to insufficient evidence.
Andrews was found guilty on 13 July after a trial at Oxford Magistrates' Court.
Passing sentence on 7 September, Deputy District Judge Peter Greenfield said Andrews had abused his position of trust and only a custodial sentence was appropriate.
The assistant chief constable of Wiltshire Police, Patrick Geenty, apologised for what the judge said was a "gross breach of trust", and described the incident as "disgraceful".
Andrews has been suspended from duty and will face a misconduct hearing.