Wiltshire Police Authority to carry out custody review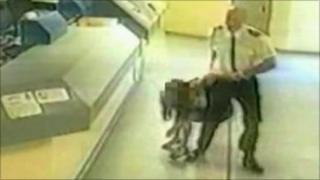 Wiltshire Police Authority says it will conduct an independent review into custody arrangements in the county.
The move follows the conviction of Sgt Mark Andrews for assaulting Pamela Somerville at Melksham Police station.
Authority chair Chris Hoare said the review was aimed at satisfying the public.
Andrews was sentenced to six months in prison, but has been bailed pending an appeal.
Andrews, 37, was filmed on CCTV dragging Ms Somerville, 59, through Melksham police station in Wiltshire.
He was sentenced on 7 September and spent six days in jail before being released on bail. It emerged on Thursday that he was back on full pay.
The attack happened in July 2008.
Mr Hoare said: "This member of staff let us down over two years ago.
"It is our belief the investment we have made both in people and in kit is not letting us down and that standards in the custody suites are as they should be.
'Appalling but isolated'
He said the review followed a meeting on Thursday where the effects of the case on the people of Wiltshire were discussed.
He said about £500,000 had been spent on staff and updating the CCTV system in custody suites in the last 18 months.
"We believe the Wiltshire Police force is a good force and our public engagement indicates the people in Wiltshire generally share that view," he said.
"We think the incident involving Sgt Andrews was appalling but we think it's an isolated occurrence.
"We recognise that the public's confidence in Wiltshire Police will have been affected by Sgt Andrews' case.
"We advised the chief constable that we would be conducting our own independent review into custody arrangements just to satisfy ourselves on behalf of the public that the standards are what we believe them to be."
He said the findings would be made public once concluded.
A disciplinary hearing had been put on hold until Andrews' appeal had been heard, he added.