Cars destroyed in arson attack at Swindon dealership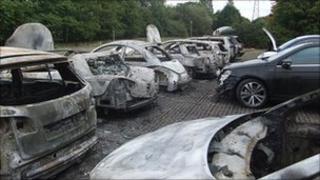 Eight cars have been destroyed and four others have been damaged in an arson attack at a car dealership in Swindon.
The vehicles were parked on land near the Mann Egerton VW garage on the Blagrove Industrial Estate.
The fire was started at about 0200 BST on Saturday. The damage bill was estimated to be about £270,000.
Wiltshire Police are appealing to the member of public who reported the incident by telephone to get in touch with them again.