Owner of pink cat used 'harmless food dye'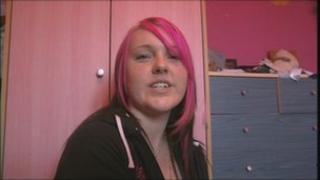 The owner of a pink cat found in a Swindon garden has made a plea for the return of her pet.
Natasha Gregory said she bathed the white cat with "harmless" food dye because pink was her favourite colour.
The RSPCA had been trying to trace the owner of the cat, named oi! Kitty, after criticising the "sick prank".
Ms Gregory, who has pink hair, said she loved oi! Kitty and wanted her back. The RSPCA said it was looking into the matter and would not comment further.
Ms Gregory said she loved the colour pink.
"My mum wanted me to wear pretty dresses but I wanted to climb trees. As I got older I saw it as a womanly and feminine colour and now I just love it - pink and fluffy."
She said she got the cat from her sister and had decided to give it a bath to wash off the smell of her sister's house.
'Evil and horrible'
"I had seen this programme on TV where two white dogs were dyed pink and as I was bathing her it just clicked.
"I ran downstairs and found red food colouring in the cupboard. So I popped it on just like a bit of shampoo - there was no restraining the cat or anything - it was just like a normal bath.
"She left pink footprints all over my house. I reckon she looked cute," she said.
The plight of the pink cat generated widespread media interest and Ms Gregory said she called the Sun newspaper because she wanted to tell her side of the story.
"I was annoyed because people would associate me with being this evil, horrible animal dumper.
"I love my cat - that cat is fed better than most people. I wanted people to know she wasn't harmed at all.
"The dye will be out in three weeks and she will be back to her white self," she said.
"I wont be doing it again - I was so shocked to see my cat on the news. I thought I'd never see her again."