Firefighters rescue cow from Wiltshire well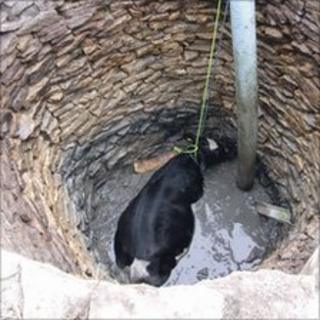 Pictures have been released of the moment firefighters rescued a cow from a 10ft (3m) well in Wiltshire.
A service spokesman said the 12-month-old fell through the cover at Hayleaze Farm, Crudwell, but the impact was softened by the water.
The "challenging rescue" was carried out by a crew from Malmesbury and the animal rescue team from Stratton.
The well had to be drained so the "extremely frightened" animal could be sedated.
A teleporter was then used to lift it out in the operation on Wednesday.
A Wiltshire Fire and Rescue Service spokesman said: "Apart from a few cuts and scrapes, the cow was no worse the wear for her ordeal."