MoD drones 'nearly hit helicopers over Salisbury Plain'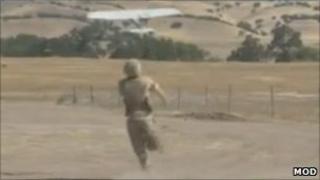 Two official safety investigations have taken place after unmanned planes came close to helicopters over Wiltshire.
An Apache and a Sea King came close to hitting the much smaller drone spy aircraft - while it was being flown remotely by a soldier on the ground.
The near collisions on Salisbury Plain in February involved the small Desert Hawk drone.
The Ministry of Defence said rigorous training ensures mistakes are not made in the war zone.
'Collision course'
The Desert Hawk drones were being flown on the eastern edge of Salisbury Plain close to Tilshead in February.
They have their own dedicated airspace above the plain but on one occasion one ran out of battery power at about 500ft (150m) and narrowly missed an Apache attack helicopter as it came in to land.
The official UK Airprox Board report said they "were on a collision course" and there was "a very high risk of a crash".
On the same day another Desert Hawk came within 1,000ft (300m) of a Sea King helicopter.
These are the first safety investigations involving unmanned aeroplanes. Some people have expressed fears the ground operator cannot see or automatically avoid other aircraft.