Swindon Borough Council budget cuts approved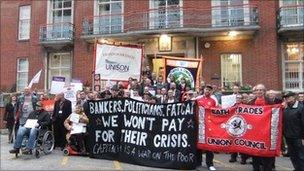 Budget cuts totalling £5m have been approved by Swindon borough councillors.
More then 100 protesters gathered outside the Conservative-run authority's offices on Thursday.
The savings, which will lead to the loss of 237 jobs, will be made before the end of March 2011.
Council leader Rod Bluh said increasing council tax instead was not an option. A Unison spokesman said services would suffer.
The vote went through 34 to 15 at the meeting on Thursday night.
Mr Bluh said: "We have hundreds and thousands of pensioners... people are on fixed incomes, lots of people are on short-time working, lots of people are struggling.
"The last thing they need is tax increases when they can be avoided."
Mr Bluh had earlier said there would be redundancies of between 100 and 200 people. He added that many posts would be closed through not filling vacant roles.
A consultation is taking place.
Bob Cretchley, Unison branch secretary for Swindon, said "Unison is quite despondent about the level of cuts that are coming in this year in Swindon on top of years of cuts to jobs and services.
"We are going to see long-standing, valued members of staff being made redundant and services to the local community will suffer."
Related Internet Links
The BBC is not responsible for the content of external sites.