Date for Swindon teenager to be deported to Afghanistan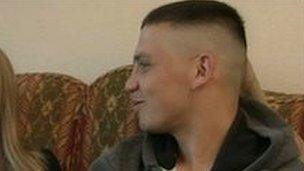 An Afghan teenager is to be deported after spending two years in Swindon.
Mohammed Pardesi, 18, says he will be killed by the Taliban if he is sent back home, but the UK Border Agency has said that a judge found his claim to have been "embellished".
Friends and family held a protest outside Swindon police station on Tuesday and they still hope to stop the deportation with an injunction.
Mr Pardesi is due to be flown back to Afghanistan on 19 October.
He lost his appeal to stay in the UK and was arrested on Monday.
The teenager remains in custody at an immigration removal centre near London.
A UK Border Agency spokesman said previously that a judge had found Mr Pardesi "embellished his claim for protection in an attempt to give it greater weight".
He added: "All cases are carefully considered and the UK Border Agency will offer protection to anyone found by us - or the courts - to be at risk.
"We would rather individuals like Mr Pardesi leave the UK voluntarily when they have no basis to remain here, but if individuals defy the decisions of the courts we are left with no choice but to detain them and enforce their removal."
Related Internet Links
The BBC is not responsible for the content of external sites.