Four rare bat species found in Wiltshire woods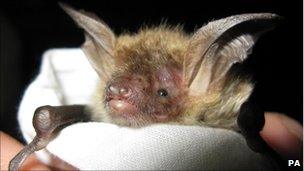 Two wildlife charities have found an "impressive" four species of rare bats in woodland in Wiltshire.
They discovered the Bechstein's, barbastelle, lesser and greater horseshoe bats during radio tracking surveys in Braydon Forest.
A spokesman from the Cotswold Water Park Society said 13 bat species in total were found in the woods, out of 18 that breed in the UK.
He said they were the full quota known to live in the county.
The survey was carried out by Wiltshire Wildlife Trust and the Cotswold Water Park (CWP) Society.
CWP Society biodiversity officer Gareth Harris said: "These four bats are listed on the IUCN [International Union for Conservation of Nature] Red List and are the only bats in the UK to have European-level protection, so to find them all together in one wood is deeply impressive."
He said there were an estimated 1,500 Bechstein's bats in the UK.
He added: "We were lucky that the Bechstein's bats led us to a colony of at least 12 females; the fact that we have caught lactating females indicates that they are breeding here too.
"We only know of one other in Wiltshire - in Wiltshire Wildlife Trust's Green Lane Wood nature reserve near Trowbridge."
The organisations are asking anyone with bats in their house or barn to get in touch.
Related Internet Links
The BBC is not responsible for the content of external sites.