Wiltshire fund manager feared theft exposure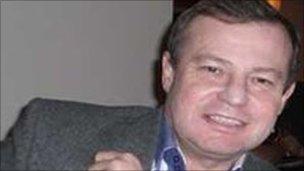 A pension fund manager jumped to his death from a cliff after stealing £1.1m from a private fund, an inquest heard.
David Seaton, 56, from Amesbury, Wiltshire, feared the theft was about to be exposed.
He drove to north Cornwall, left his car and walked a mile to cliffs on 1 September 2009. He bound his hands with a tie and jumped into the sea.
The coroner recorded a verdict of suicide at the hearing in Truro, Cornwall.
Mr Seaton was joint managing director of pension administration company Rowanmoor, which he co-founded in 2006 after a management buyout.
The hearing was told Mr Seaton had emptied the private pension fund, which he had sole control over, apparently using the money to fund his lifestyle.
Acting on the unnamed client's instructions, an independent financial adviser began investigating, causing Mr Seaton to fear being exposed.
The hearing was told that pretending everything was normal, he left work in Salisbury on 24 August last year. His body was found a week later on Warren Gutter Beach near Kilkhampton, Bude.
The inquest heard Mr Seaton borrowed thousands of pounds, gambling it on the stock market in the hope of trying to recoup funds.
He had also been playing online Spanish lotteries.
Det Con Andrew Cook, from Wiltshire Police's economic crime unit, said: "This fund was privately administered by Mr Seaton and fell outside the company.
"From 1996 until late 2004 we discovered £1.1m was taken from that account.
"The vast majority of the money was transferred to International Finance Management, a company registered to Mr Seaton.
"The money was then moved into other accounts controlled by Mr Seaton, including family accounts.
"From there it is a matter of speculation from where the money went. I can only speculate but I must assume that it went to fund Mr Seaton's lifestyle but I just do not know."
Mr Seaton's wife Caroline told the hearing she had worked alongside her husband until about three years ago.
"I had absolutely no inkling of anything to do with work and having stopped working I had no idea," she said.
She said it had been a "complete shock" to find her husband had gone missing.
"I knew he was dead because it was so out of character and then I knew there was something horrendous had brought it on."
Rowanmoor secretary Shirley Hylands said the company had carried out its own internal investigation after Mr Seaton's death.
She said when interest, which had not been accrued, was added, the missing money totalled nearly £2m.
Barrie van den Berg, assistant deputy Cornwall coroner, said that although there was no suicide note, the fact that Mr Seaton had tied his wrists was an indication of his intention.
"The financial circumstances carried such a pressure that there was only one way out, so I am going to record a verdict of suicide," he said.
Related Internet Links
The BBC is not responsible for the content of external sites.