Afghan teenager's deportation challenged in High Court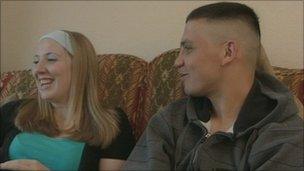 An Afghan teenager awaiting deportation from the UK can stay while a legal challenge is heard in the High Court.
Campaigners fighting to keep Mohammed Pardesi, 18, in Swindon, said the injunction was issued just hours before he was due to fly to Afghanistan.
A spokesman for the UK Border Agency said Mr Pardesi was currently still being held at an immigration detention centre near London.
He added: "We don't deport people while there are outstanding legal appeals."
Mr Pardesi who has lived in Swindon for two years, said he fled Afghanistan when his brother was killed by the Taliban.
He lost his appeal to stay in the UK and was arrested on 11 October.
His girlfriend Emma Williams, from Upper Stratton, has said she will go with him to Afghanistan if he is deported.
Paulette North, who has been leading the campaign for Mr Pardesi to stay, said: "We have won a last minute reprieve for him.
"(The news) came in late last night that the solicitors managed to get an injunction and we will be presenting a fresh claim.
"Our solicitor is very, very hopeful that under Article 8 of the Human Rights Act it will be proven that he has a private and family life here and he will be allowed to remain with Emma and Sue (Emma's mother), his family.
"The family are absolutely ecstatic."
The UK Border Agency previously said a judge at an Immigration Tribunal had found Mr Pardesi "embellished" his claim for protection and that was why it was turned down.
Related Internet Links
The BBC is not responsible for the content of external sites.