Wroughton Airfield control tower to be demolished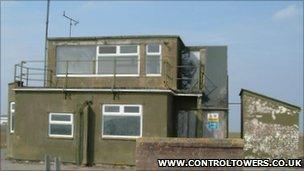 A control tower at a disused airfield in Wiltshire is set to be demolished despite local protests.
The building at Wroughton is unusual among World War II control towers because of its small size.
Wroughton Parish Council chairman Ann Richards said the council was "very sad" about the decision to demolish it.
The decision has been made by the Science Museum at Wroughton, which owns the land. It said other buildings were under review.
Campaigners fear other buildings on the airfield are under threat but have been reassured they will be consulted before any further decisions are made.
Matt Moore, organiser for the museum, said: "I would reassure you that we are not demolishing any other buildings on site and we are restoring them where we can.
"Ones that aren't being restored immediately need to be monitored and looked at and we will make sure there is a formal process that we go through, to talk to you about it if we do need to make changes to the buildings."
Related Internet Links
The BBC is not responsible for the content of external sites.