Public sector job cuts feared in Wiltshire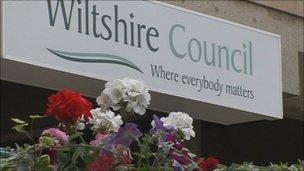 A large number of public sector jobs in Wiltshire could go in the next four years, according to Swindon Borough Council.
A spokesman said up to 1,000 posts could be axed at the authority following the Spending Review.
Deputy leader Garry Perkins said next year's budget would be set in December.
"If the budget that is set requires there will be job losses, those employees will know at that time," he said.
It was announced in the Spending Review the amount of money local councils received from the government would be cut by 7.1% each year over four years.
The council spokesman added that the Conservative-run authority's budget would be reduced by about a third, or £45m, over the next three years, in line with expectations.
Earlier this month, Swindon borough councillors approved budget cuts totalling £5m, which would lead to the loss of 237 jobs.
Meanwhile a Wiltshire Council spokeswoman said 240 managerial posts would go.
The Conservative-run authority announced in September that the managers would go by next April as part of a £122m programme of cuts.
The Wiltshire Council spokeswoman said no information was currently available about other job losses following the review.
Related Internet Links
The BBC is not responsible for the content of external sites.