Youths vandalise St John's church in Swindon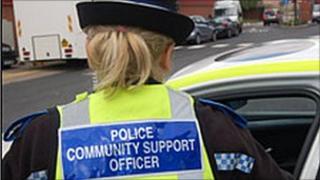 Police have stepped up patrols at a housing estate in Swindon after a church was vandalised and parishioners abused by groups of up to 20 youths.
Their behaviour included throwing stones at people, verbal abuse and disrupting activities at St John's.
Inspector Nick John from Swindon Police said the issue was being treated as a priority "to make sure officers are in the right place at the right time".
But some people using the church said the youths were still causing trouble.
Swindon Borough Council has worked with police and has issued five acceptable behaviour contracts.
These contracts are documents signed by the young person to prevent further anti-social behaviour. If it is breached the individual is at risk of arrest or an Anti-social Behaviour Order (Asbo).
A 12-year-old boy has also been arrested for abusive behaviour in connection with the problems.
But Natasha Dixon, who runs dance classes at the church in Whitbourne Avenue, said the 11 to 14-year-olds were still causing problems.
"They go into the toilets, they hang around in the waiting area, they throw stones when people are walking in and just use abusive language making it really uncomfortable for the young children and for the adults," she said.
She claimed she had contacted police three times but said she had "not seen them once or had a call back".
Meanwhile the Reverend John Woods, from Minister of Discovery Church, said he had focused on building relations with the children.
"Over the past two weeks we have seen a marked improvement and have established a degree of mutual respect," he said.