Swindon playground revamp cash secured despite cuts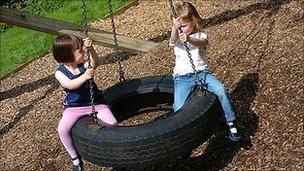 Funding has been secured to complete the refurbishment of 22 play areas in the Swindon Borough Council area.
Twelve playgrounds have been upgraded so far, but there were fears the rest of the money would be lost as part of the government's saving review.
But education secretary Michael Gove said the council would get £403,000 of the £550,000 in second phase funding.
A refurbishment programme for the remaining play areas will be drawn up next week.
Councillor Keith Williams said: "I'm delighted the Government has recognised how important these play areas are to local communities.
"We argued our case strongly to Mr Gove and, while we haven't received the full amount we were hoping for, it allows us to complete the work on three of our remaining five play areas."
Related Internet Links
The BBC is not responsible for the content of external sites.