Prehistoric Silbury Hill 'was built in layers'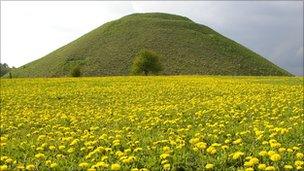 Silbury Hill in Wiltshire may have been built far quicker than archaeologists once thought.
The man-made hill, part of the Avebury World Heritage site, was believed to have taken many centuries to build.
But research by English Heritage archaeologists suggests the Stone Age site was made in 15 distinct layers over 100 years.
It was once thought the hill was a burial mound, but no grave has been found and its purpose is unknown.
The research was carried out by archaeologists Jim Leary and David Field, who dug a cross-section tunnel into the monument in 2007.
"We had this idea that it was a blueprint. What was most remarkable going in was that it was in lots and lots of sections," said Mr Leary.
He added: "The strange thing was it wasn't always a hill. The first phase was a bank and ditch.
"But new evidence is increasingly telling us that our Neolithic ancestors display an almost obsessive desire to constantly change the monument.
"It's as if the final form of the hill did not matter - it was the construction process that was important."
Silbury Hill is thought to have been completed in about 2,400 BC.
The hill is deemed a Site of Special Scientific Interest for chalk land vegetation and the public are no longer allowed to walk on to it.
Mr Leary and Mr Field have written a book, The Story Of Silbury Hill, describing their findings.
Related Internet Links
The BBC is not responsible for the content of external sites.