Spending Review: Up to 350 Wiltshire Police jobs to go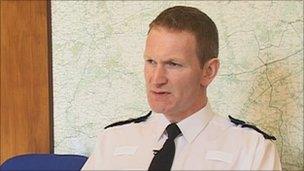 Up to 350 jobs at Wiltshire Police are to be axed, it has been announced.
Chief Constable Brian Moore said the force had to make redundancies following last week's Spending Review.
He estimates up to 150 officers will not be replaced when they leave, and 100 to 200 support workers could be made redundant.
The force has to cut £17m over the next four years. Unison said it wanted to negotiate job sharing and more flexible contracts.
Under the Spending Review, 16% of police funding will be cut over four years.
A recruitment freeze has been in place at the county's force since September 2009.
Chief Constable Moore said: "Our worst projections are up to 350 members of staff. One in six or one in seven of the force may have to be made redundant."
He said the 999 service would not be affected. The prospect of the recruitment freeze continuing was very disappointing and concerning, he added.
Chris Cahill from Unison, which represents civilian staff, said it was ruling out strike action for the time being.
He said: "In every downturn in the last 100 years, governments have picked on the public sector. It's unfair, it's undefendable.
"We realise there's only so much money that can go around. We want a strong force but we also want fairness for our members."
Related Internet Links
The BBC is not responsible for the content of external sites.