Wiltshire's chief constable defends the force's PCSOs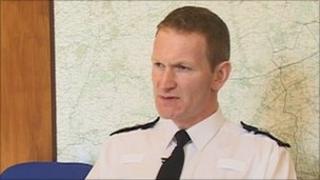 Wiltshire's chief constable has defended the role of Police Community Support Officers within the force.
Brian Moore was responding to criticism in an webchat about policing issues that PCSOs cost the force £1.7m a year and had "absolutely no powers".
Mr Moore said he provided PCSOs with 17 powers which was "the minimum required" for them to do their job in Wiltshire.
"Pcs often get called away from their beat.. the net effect is that there is no police presence," he said.
Paperwork requirements
"The purpose of a PCSO is to stay on his or her beat for as much of the day as is possible, listening to and resolving local problems, the vast majority of which do not involve the use of police powers at all.
"Our experience with police officers, who have many powers, is that they are called away from their beat to deal with persons in custody, complete paperwork and then go to court for sometimes for days and the net effect is there is no police presence in their area."
Mr Moore was also asked if the force would be better off using the money spent on its 121 PCSOs to employ 74 "real" police officers.
He said he believed the balance between Pcs and PCSOs was about right in the Wiltshire force, adding that he received "tremendous feedback" as to the work PCSOs performed.
PCSOs were introduced in 2002 in England and Wales under the Police Reform Act by the then Home Secretary David Blunkett.