Wiltshire is popular place in west county for over-65s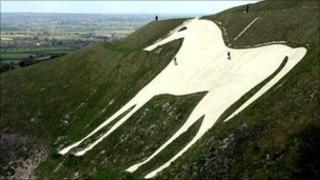 Wiltshire has been named as one of the top places in the west of England that people move to in their retirement, BBC-commissioned research has shown.
The research, by Experian, showed that more than 1,000 people aged over 65 settled in the county over the past year.
The data shows that in 2009 a total of 1,300 over-65s moved to Wiltshire.
Wiltshire Council said it was aware of the needs of more elderly people than it had "ever been".
A spokesman for the council said: "We, like every other council, have a larger ageing population than we've ever had and that is creating pressure on our adult social care budget.
"We are keen to keep providing the services we currently provide and are looking for more innovative ways to do this."
The council said it was assessing more than 100 more people per month than in 2009 - 1,681 compared to 1,576 last year.
Penny Church, from Age UK Wiltshire, said that although they had not collected specific data about people's geographical movements, they were regularly encountering older people who had recently moved to the area.
She said: "On one level, we have service users who have moved to be closer to family but then may become lonely and use our befriending service.
"Or on another level, the Age UK staff who support the organisers of the day centres and lunch clubs say they've noticed they're often talking to people who've recently moved to Wiltshire.
"We've also noticed that some of our new volunteers are people who have recently come to live here and find that a good way of making friends."
'Best-kept secret'
Estate agent Simon Jacobs, from Chesterton Humberts in Marlborough, said he was not surprised.
He said: "Historically people have moved to the south coast - from Bognor to Bournemouth to the Isle of Wight.
"However the infrastructure there is not as good as it is here so there are fewer facilities available such as decent hospitals.
"It is also one of our best-kept secrets that Wiltshire is not nearly as densely populated as the south coast.
"Our proximity to places like Bath, London and Salisbury make this a very attractive place to be, and prices in Wiltshire compared to the prices of places just 50 miles outside London are extremely good value."
He said many of his clients were people of the older generation looking for homes but the difficulty was finding them because not enough stock was being built.
Wiltshire Council said it expected the number of older people in the county to increase by 43% over the next 16 years.
Devon was the most popular place with 3,100 over-65s deciding to retire there.
Wiltshire is the fifth most popular county in the West Country after Devon, Dorset, Gloucestershire and Somerset.