Swindon's Oasis revamp could see ski dome built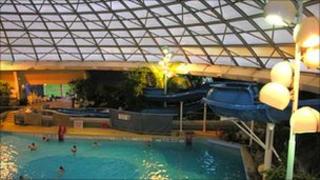 A ski dome could be built in Swindon as part of plans to redevelop a leisure centre nearby.
Swindon Borough Council is looking for a private company to build and run the ski slope on land on the Hawksworth industrial estate.
The company would also be required to take on the nearby council-owned Oasis Leisure Centre, revamp it, and run it.
"The Oasis will stay as a leisure centre - either refurbished or rebuilt on the same site," the council said.
'Leisure package'
"We own the Oasis and will continue to own it. We own the land alongside it and we have been in talks with a company about possibly bringing a snow dome feature into Swindon.
"We want to bring the whole thing together to create a good leisure package - not just for the people of Swindon - but to bring people in from further afield," the council spokesman said.
The council has placed adverts in the trade press asking private leisure providers to submit their plans to revamp the existing site and possibly operate new attractions on nearby land.
"Any discussions are exploratory and no decisions have been made on the centre's future," the spokesman added.
The Oasis leisure centre currently houses a swimming pool, gym and a multi-purpose sports hall.