Swindon bowel cancer test kits 'could help cut deaths'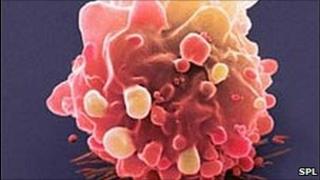 Self-test kits for detecting bowel cancer are being sent to all men and women in their 60s in Swindon.
Health bosses said about 104 people a year are diagnosed with bowel cancer in the town, leading to 43 deaths.
It is hoped the screening project, which can help to pick up early signs of the disease, will save more lives.
Frances Mayes, from NHS Swindon, said: "If bowel cancer is detected at an early stage, there is over a 90% chance of survival."
Bowel cancer is the third most common cancer and causes about 16,000 deaths a year, predominantly in the over-60s.
The screening will initially be offered every two years to all men and women aged 60 to 69. People over 70 can request a screening kit.