Extreme cold still affecting some Wiltshire schools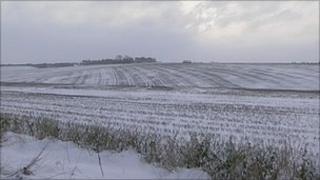 A number of schools in Wiltshire remained closed on Friday due to ice and wintry weather.
Weather forecasters predicted a drop in temperature to -13C in parts of the county overnight.
Several minor roads were closed or impassable and 28 schools did not open on Thursday after heavy snowfall.
In Salisbury, a man in his 70s was treated for hypothermia. He had been sitting in a doorway for several hours.
But paramedics said it was not obvious he needed help.
Yatesbury has seen seven consecutive days of sub-zero temperatures, meaning pensioners and those on benefits are eligible for government cold weather payments.
Meanwhile, Wiltshire Fire and Rescue Service is warning people not to walk on ice.
A spokesman said firefighters had been called out on "numerous occasions" to help people who had fallen into water in recent winters.
They were often trying to rescue dogs. The spokesman urged people to keep their pets on a lead.
'Emergency ward'
East Wichel Primary was shut due to a variety of illnesses which have kept 11 of the school's 13 reception pupils at home.
Grange Junior School, in Swindon, reopened after being closed for three days because of a flu outbreak which affected 160 children and a third of the staff.
Headmistress Christine Parkyn said: "[Some] children had bad headaches and felt dizzy and others were vomiting.
"We knew the situation had got out of hand when we ran out of buckets and we had so many children out in the foyer it was like Emergency Ward 10."
Seven staff members at the school were still off and parents have been asked not to send their children back to school unless they are completely well.
The school has been thoroughly cleaned to help wipe out the infection.
A full list of school closures and late openings can be found on the BBC Wiltshire website.