Chip fat recycling starts in Wiltshire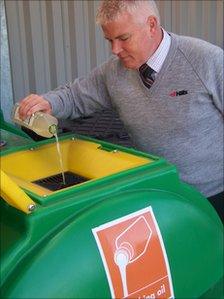 People living in Wiltshire can now recycle their waste vegetable oil following a three-month trial.
Residents can now take their chip fat to any of the county's 10 household recycling centres.
The oil, which is collected in large containers, is turned into biofuel, which is used to generate electricity.
Wiltshire Council also hopes the move will reduce the amount of oil which is poured into drains and sewers.
A council spokesman said: "We are particularly keen to reduce food waste because of its environmental impact.
"We have been participating in the national 'love food, hate waste' campaign and we subsidise the purchase of food waste digesters by residents. This new service provides further practical help," he added.
The scheme is operated by Living Fuels and Hills Waste Solutions.
Daniel Gillert, from Living Fuels, said: "Recycling this oil makes good use of what was previously a waste material.
"One litre generates enough clean electricity to make 240 cups of tea, while one tonne provides enough to power the average home for an entire year."
Related Internet Links
The BBC is not responsible for the content of external sites.