Former BT man awarded £115k in asbestos case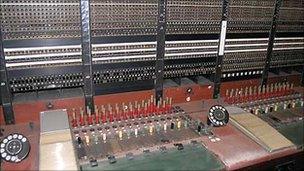 A man who is dying from mesothelioma after exposure to asbestos has won his fight for compensation from BT.
In the 1990s Bernard Mottram, 82, installed telephone lines at a former secret government bunker in Wiltshire.
The 35-acre underground complex at Corsham was equipped during the Cold War in case of nuclear attack.
BT has agreed to make a compensation payment of £115,000 but the firm does not admit there was exposure to asbestos at this time in Corsham.
Mr Mottram, from Bath, has months left to live.
He said he was not warned he would be working with the fibre or told to take any precautions.
"No masks, nothing like that in them days," he said.
"Looking back all the time I was on BT I never heard the words asbestos mentioned to be honest."
In a statement BT said it took its health and safety responsibilities very seriously, providing appropriate training and protection.
"For the purpose of this case BT has agreed to make a compensation payment to Mr Mottram in respect of his mesothelioma," the statement said.
"The agreement has not been specific to any part of his employment.
"BT does not admit there was any exposure in the 1990s in Corsham."
Related Internet Links
The BBC is not responsible for the content of external sites.