Wiltshire cell assault sergeant conduct hearing starts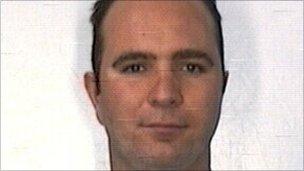 A Wiltshire policeman convicted of assaulting a woman in custody and later cleared on appeal has appeared before an internal conduct hearing.
Sgt Mark Andrews, of Wiltshire Police, was filmed dragging Pamela Somerville through Melksham police station custody area in July 2008.
The hearing is examining the conduct of Sgt Andrews in respect of his dealings with Ms Somerville during the incident.
The inquiry, being held in private, is expected to last until Friday.
A Wiltshire Police spokesman said because of the public interest and high profile nature of this case the result of the hearing will be made public.
He added: "Sergeant Andrews will remain suspended from duty until the conduct hearing and in accordance with national police regulations he will continue to receive full pay for as long as he remains a member of the force."
The officer was found guilty of causing actual bodily harm and jailed for six months in September.
Sgt Andrews spent six days in prison, but was released on bail pending the appeal at Oxford Crown Court.
The appeal judge, Mr Justice Bean, said after the four-day hearing in November he was satisfied that Sgt Andrews did not intend to throw Ms Somerville into the cell and that injuries she suffered "were probably caused by her falling to the floor after letting go of the door frame".
Ms Somerville had been arrested for failing to take a breath test but was never prosecuted.
Related Internet Links
The BBC is not responsible for the content of external sites.