Two boys killed and two injured in crash at Rowde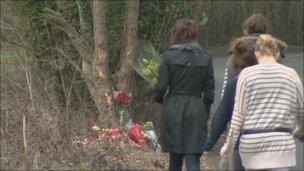 Two boys have been killed and another two have been seriously injured in a crash in Rowde near Devizes.
A Renault Clio left the road and hit a tree on the A342, near the entrance to Rowdeford School, at about 0130 GMT.
Frankie Bowyer, 16, of St Teresa's Drive, Chippenham, died at the scene. Jamie Thomas Walker, 17, of Hatherell Road, Chippenham, died in hospital.
Two other passengers, 16 and 17, have life-threatening injuries. The male driver, 20, was not badly hurt.
He and the two injured boys are also from the Chippenham area, Wiltshire Police said.
The driver was taken to hospital complaining of chest pain.
Wiltshire Police said he provided a negative breath test, but suffered minor injuries and was treated for extreme shock.
The road was closed for about eight hours.
Ch Insp Fraser Howorth said: "This is an overwhelmingly tragic incident and our thoughts are with the family and friends of those involved.
"A family liaison office has been appointed for each family involved to offer whatever support we can.
"A full investigation is now being undertaken by our serious collision investigation team to help establish the circumstances surrounding the incident and local officers are working closely with the communities affected to offer appropriate advice and support.
"I want to thank all the emergency services, including my officers who had to deal with this very difficult and tragic situation."
A spokesman for Great Western Ambulance Service (GWAS) said: "One of our crews actually came across the incident just after 1am. It was immediately obvious it was a very serious incident.
"They notified our control room to request back-up and began assessing patients. They had to smash the car windows to start providing essential life-saving treatment while back-up was en route.
"Our crews on scene were in regular contact with receiving hospitals, who had trauma teams standing by to receive patients as they were flown in."
Related Internet Links
The BBC is not responsible for the content of external sites.