Family tribute to teenage victim of Rowde car crash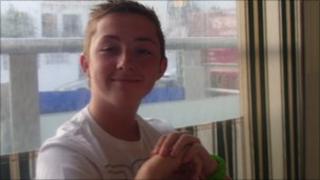 The family of one of three teenagers killed in a car crash in Rowde near Devizes has paid tribute to him.
George Conor Forester, 17, from Chippenham died in hospital after the crash near Rowdeford School on Friday. Two of his friends also died.
His family said: "The tragic death of our precious son and brother has left us all with heavy hearts and sadness.
"Our love and prayers go out to all the families and friends of the young men involved in this awful accident."
They added: "He was always smiling, singing and even occasionally breaking into a spontaneous dance. He was really enjoying this stage of his life."
Extreme shock
The two other boys who were killed were named as 16-year-old Frankie Bowyer, who died at the scene, and Jamie Thomas, 17, who died in hospital. They were both also from Chippenham.
The male driver, 20, was not badly hurt, but was taken to hospital complaining of chest pain.
Wiltshire Police said he provided a negative breath test, but suffered minor injuries and was treated for extreme shock.
The boys were in a Renault Clio which hit a tree on the A342, near the entrance to Rowdeford School, at about 0130 GMT on 31 December.